This is a current list of all of the business ventures that we have been involved in as adults:

United Landscaping Enterprises: (September 1984 to August 1985)
This was the very first company that Tom started when he just a few months out of high school.  He was at the time working for his ex-brother-in-law that owned a tree removal company and they would keep coming along jobs that clients wanted additional yard maintenance completed that the tree company did not provide these services. Tom seen this opportunity, went to a bank and got himself a small $2500 personal loan, bought a old truck and some tools and went to work for him self. Many of the jobs were hand me downs that his former boss came across.
Tom closed this business in 1985 because he still needed to learn much more about every aspect of business before he would be capable of running a successful company.

Shinning Star Enterprises: (1998 to 1999)
At this time Tom was working for a growing Video Duplication Company, and Michelle worked for a tier 2 Auto supplier. Although together as a couple they were making ok money Tom was itchy about starting something of his own. For about 10 years now Tom had been interested in and studying personal growth from the likes of people like Anthony Robbins. Tom did not know enough about this exact subject but he wanted to get into the business of selling information. Shinning Start Enterprises was created to do just this. Tom and Michelle worked to set-up a mail order business. They would advertise in success style magazines and sell information reports and articles that they either wrote themselves or re-distributed from other authors. (Very similar to the internet today) As time went on, they again found themselves in a position that they still needed to learn much more about some very general business principles and they were unable to continue with this pursuit at this time.

Tom's Tool Box: (2005 to 2006)
Jump ahead to the summer of 2005; Things were not going well for the Company that Tom worked for in the Video Duplication field and he was feeling trapped from so many years of working for another person and then just being dumped on when things went bad. Tom had spent many of the last few years completing all phases of home improvements and studying business skills on the side and felt that this was a good chance for himself to help out other local people that want help with some of their own home improvement projects. During this time Tom was still working full time so this seemed more like a paid hobby to him then running a full scale business. He was able to help many local people with their own projects and in the mean time learn more about how this style of business operated.

Two Men and Their Tools: (2006 to 2007)
 In January 2006 the Video Duplication Company shut their doors and Tom was out of a job. Tom joined forces with another employee that had worked at the same company that also had many years experience doing remodeling and home improvement work. Together over the next 1½ years they worked together completing around 100 or so jobs and learning much more about what it takes to be successful in business. Tom's partner had much more expertise in remodeling and use of tools that he passed on to Tom. In late 2007, Tom's partner went on to acquire his contractor's license and he wanted to move into the commercial field.

Simple Fix, LLC: (2007 to current)
Now with Tom working on his own again he decided to stick with simple handyman style home repairs. Hence the company name. Tom went on over the next few years completing 100's of jobs and picking up al kinds of new skills. Many of his clients wanted larger jobs completed so Tom knew he had to expand. After much consideration about past companies that he had had and having to shut them down he decided that the best idea that would work for him was to create a separate company to complete anything more them simple handyman services.

Corliss Property Enhancements: (2010 to current)
This company was formed to complete jobs that were more involved then general home repair work. Tom was thinking that if for some reason later he could not continue to acquire enough work to support this large business that he would still have his handyman serve business to fall back on. Luckily both businesses are still working well and as the economy get better business has continued to increase.

Corliss Learning Systems: (2011 to current)
During the early summer of 2011, Tom being very interested in how the internet worked and how much it was growing. He wanted to "get-in' on the action. He took the summer and studied up on what blogs were all about and how to go about starting a successful on. Through out the fall of 2011 Tom wrote almost 50 of his own articles about different areas of Home Improvement. All of the time spent doing the work to other people's homes was proving to provide lots of additional information that he otherwise would not have used for anything meaningful. In January 2012, Tom and Michelle worked out a plan to start this current website, Home Information Guru.com . This website would focus on providing people with information on all aspects of Home and Garden. This time of the year worked well for Tom to concentrate on learning something new because work in the home improvement field is very slow in the winter time here in Michigan. Over the next year Tom and Michelle worked hard to understand this whole internet business model and how it all works. Also much time was spent refining exactly who the customer base was and what these people are looking for in a website. After many changes to the website over 2012 they came up with a format that seems to be attracting many new followers ever month. They grew from only 300 visitors in month 1 to over 12,000 visitors in month 12. With things changing so quickly they decided to form a new company to house their current businesses and any future business under.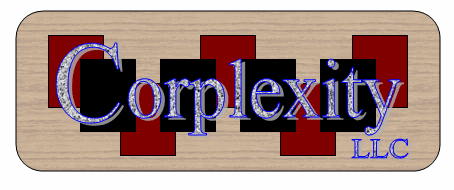 Corplexity LLC: (2012 to current)
Corplexity is the "Parent" company that controls all of the legal and financial obligations of all of the other vested interest that the Corliss' currently and in the future hold. It became obvious that this was much easier then trying to individually run many different enterprises and keep track of each on independently. Corplexity also does all of the research for future projects and will continue to come up with new ventures as opportunities continue to become more obvious.